Design with Digital Isolators (ART509E)
Details

Category: Newest Products
Published: Monday, 10 February 2020 00:00
Written by Newton C. Braga
Hits: 72
Texas Instruments has downloadable documentation on designing digital isolators. The Digital Isolator Design Guide which can be downloaded at: http://www.ti.com/lit/an/slla284a/slla284a.pdf is a 19-page document that will surely be of great use to anyone who needs basic information about insulators for galvanically isolated designs.
The document by Texas Instruments with the designation SLLA284A contains much information that the designer needs to work properly with insulators such as their working principle, typical applications, guide for the correct design of printed circuit boards. For this article, we have selected some basic circuits of this document which can be of great help to our readers. Evidently, supplementary information can be either in the original document or in the datasheets of the components used.
Mouser Electronics, which has a good line of isolators, gives you access to datasheets, such as the high-speed, six-channel ISO7760, which information can be accessed at: https://www.mouser.com/new/Texas-Instruments/ ti-iso7760-digital-isolators/
We begin by giving the basic architecture of operating isolators of the On-Off Keying (OOK) type, shown in Figure 1.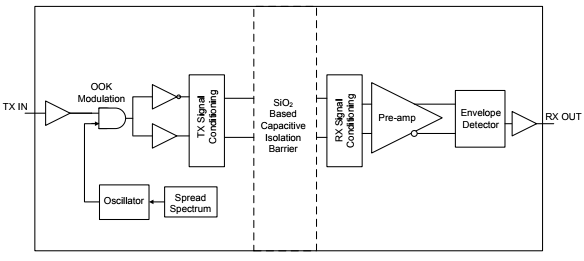 Figure 1
The simplest application is from an SPI,Serial Peripheral Interface, shown in Figure 2.

Figure 2
In this single end application we have a low voltage system using a digital isolator. ISO7x31 and ISO7x41 series components are suitable for this application. Figure 3 shows a more elaborate application for an RS-232 interface using two digital isolators.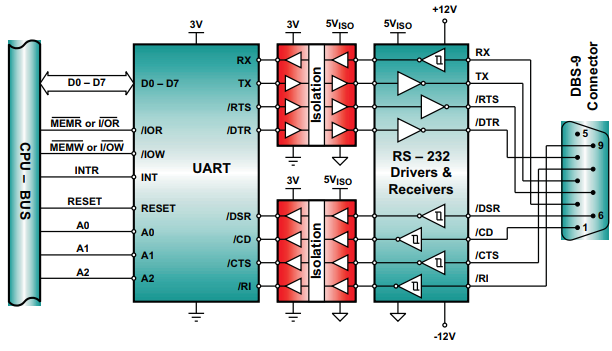 Figure 3
Two quad isolators are used due to the presence of six control signals in addition to the RX (Receive) and TX (Transmit) data lines. A 13 V bus power supply is also required. An RS-485 interfacing application of the Texas Instruments document is shown in Figure 4.

Figure 4
It completes the document detailed information for circuit calculations and also the correct layout of the printed circuit board in this type of application.
The document was revised by Texas in 2014, but its information is very current.